Home
- Brands -
TurboSmart
2017-2018 F150 & Raptor EcoBoost TurboSmart SP Supersonic BOV Kit
Highlights:

Give your truck a mean VTA BOV sound
Aggressive blow-off sound in a high-quality kit
Stronger than the factory eBOV
Billet aluminum BOV and flange
90° flange that fits stock and most aftermarket intercoolers
Includes reference adapter and resistor kit
Comes with hardware and instructions
Shipping:
Free shipping to the lower 48 contiguous United States. International shipping available upon request.
Description
Ford knows that boost is the way of the future. Their EcoBoost technology engines are designed to deliver power and torque consistent with those of larger displacement, naturally aspirated engines while achieving approximately 20% better fuel efficiency and 15% reduced greenhouse emissions than these same engines. That's why Ford is expected to offer EcoBoost engine technology in over 90% of its global vehicle line-up.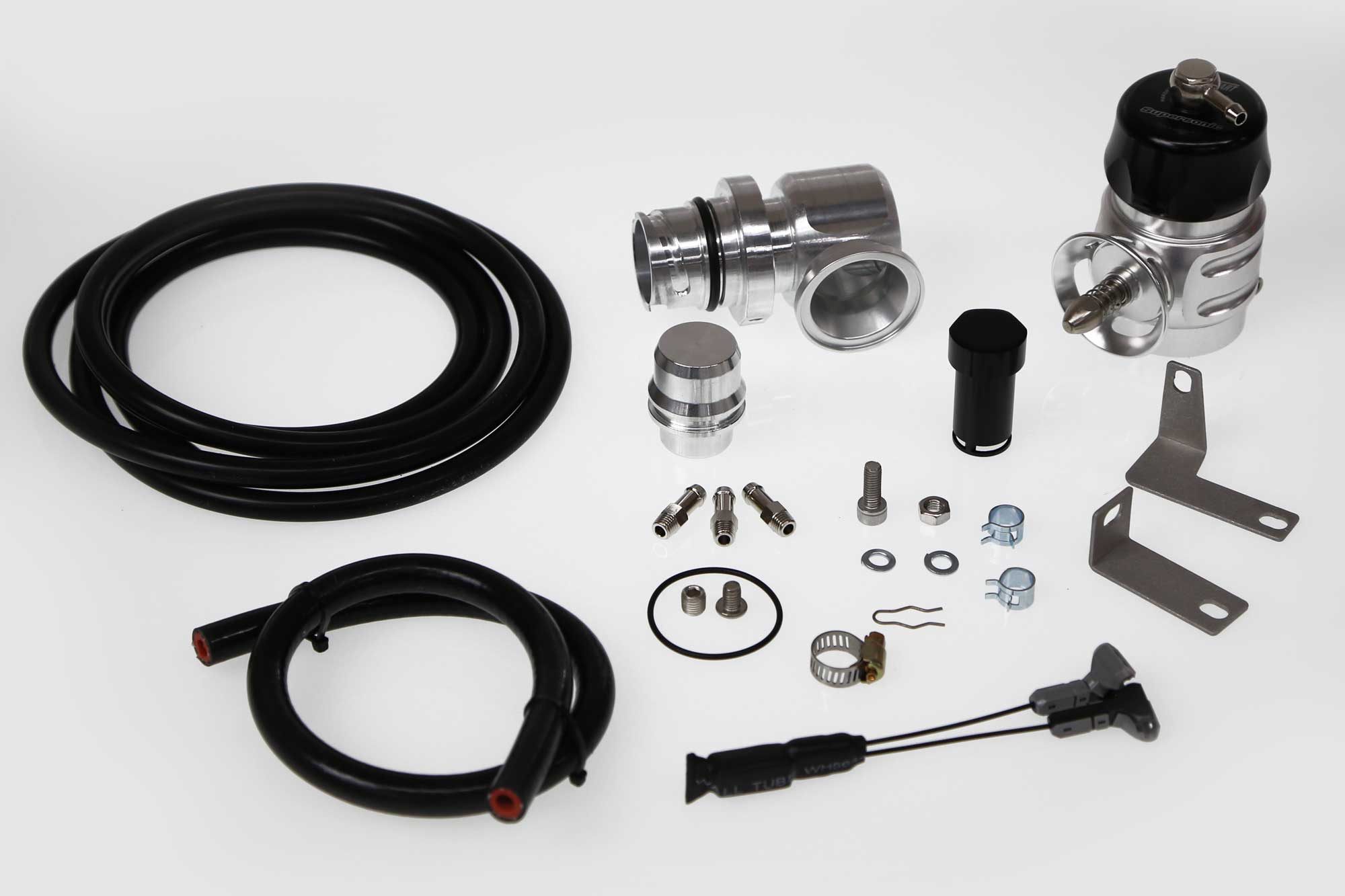 Turbosmart Blow-off Valves
No one knows boost better than Turbosmart, which makes their world first Smart Port BOV for Ford's 2015 to current 3.5L Ecoboost F150 and 2015 to current 2.7L Ecoboost F150, as well as the brand new 2017 Ecoboost Raptor, all the more exciting. Another unique feature of this product is that it fits the off-road model and most aftermarket intercoolers, making this truly one of the most versatile valve kits available for your F150. So now, one valve fits all these models.
Stock blow-off valves like those that come standard with the F150 often suffer from a range of problems. The plastic construction can lead to cracking and leaking, and if you want to up the power (who doesn't?) they can have trouble holding the extra boost.
Turbosmart's Smart Port blow-off valve system provides a remedy to all these issues. The all aircraft grade aluminium alloy construction means cracking and leaking even under increased boost levels will never be an issue, while new Smart Port technologies provide a serious increase in performance over stock valves.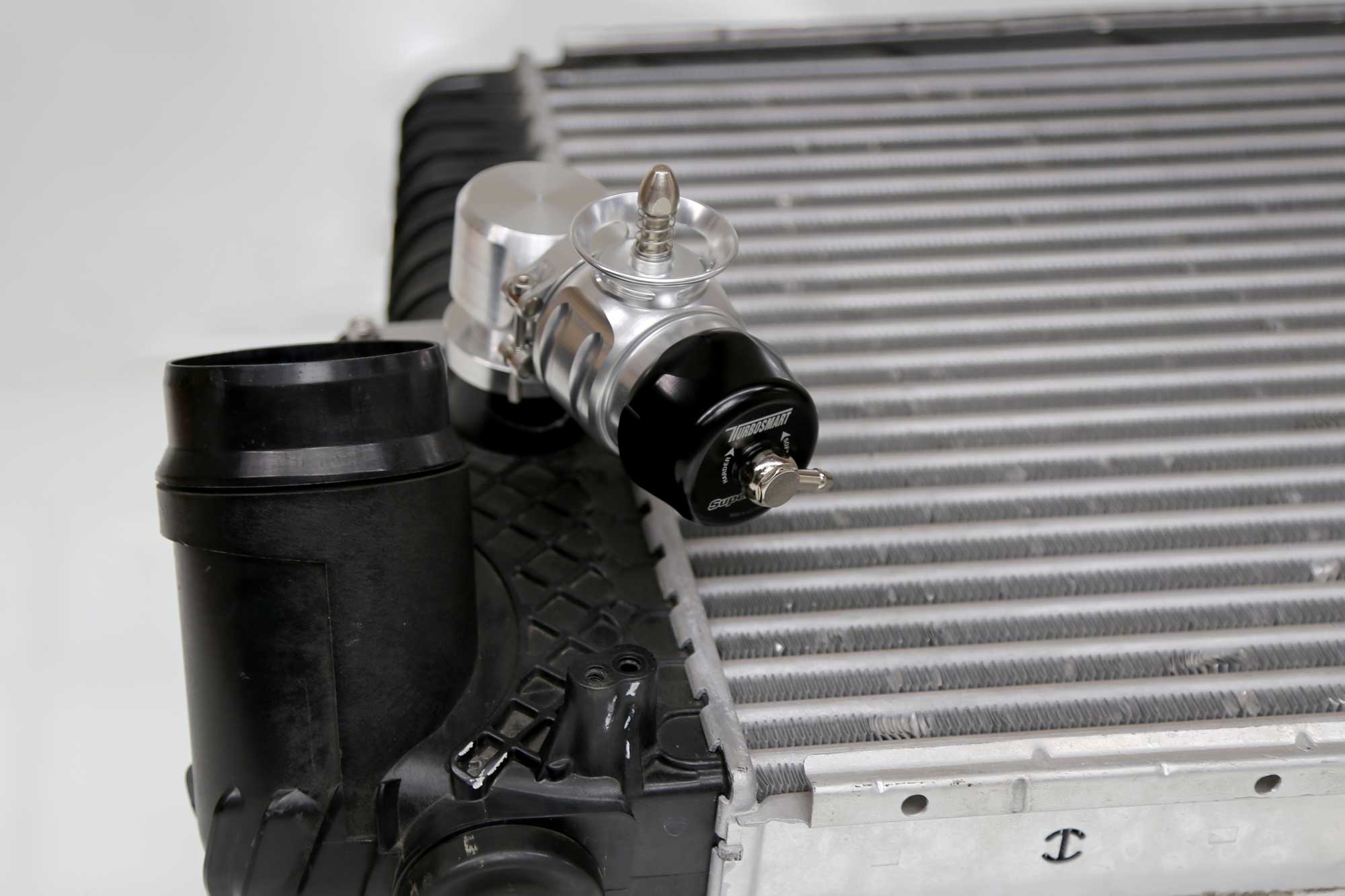 Turbosmart Smart Port Technology
Turbosmart's new piston manufacturing process utilizes specialised alloys and coatings, which mean a lighter, faster-moving piston, for razor sharp valve response. Use of a soft spring in the body of the BOV also helps speed up valve response and reduces compressor surge. While the spring on the smart trumpet prevents premature venting of boost. These new technologies result in quicker turbo spool-up and better performance on modern drive-by-wire vehicles like the F150.
In testing Turbosmart has seen this new valve:
• Completely eliminate stalling issues that are sometimes seen in vent to atmosphere applications
• Dramatically reduce compressor surge, at both low throttle and engine load conditions
• Smoothly integrate with factory computer mapping, without requiring any tuning
• Easily handle boost pressures beyond 30PSI.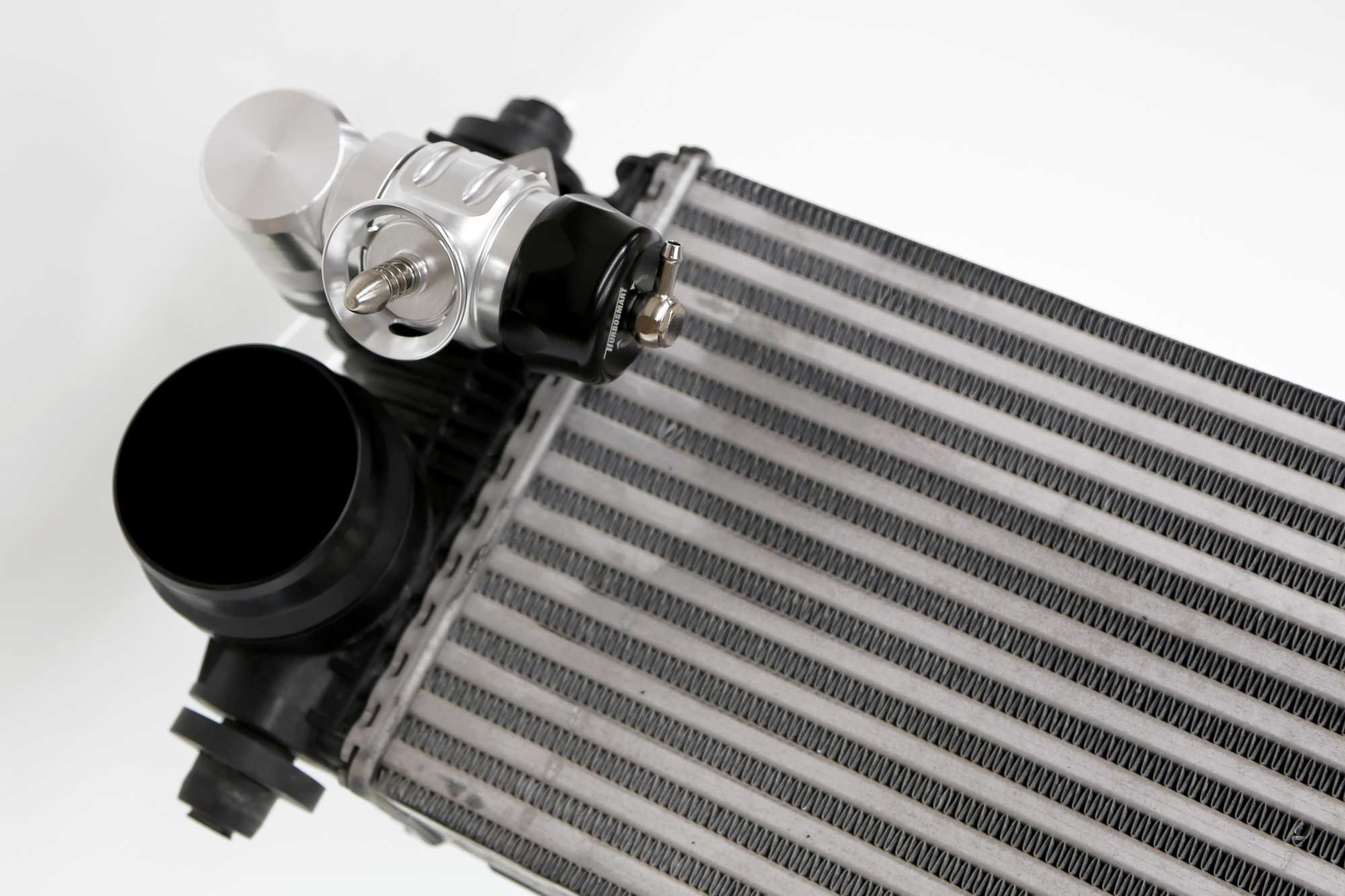 The Turbosmart Smart-Port BOV featured on the new 2.7L 2015 to current, and 3.5L 2016 to current intercooler
Complete BOV Kit that Fits with Aftermarket Intercoolers
Your 2015-2018 F150 EcoBoost deserves a big, mean, and aggressive VTA sound when all that boos pressure needs to be released, and the Turbosmart SP Supersonic BOV gives that to you. Turbosmart's SP Supersonic BOV Kit gives your awesome EcoBoost F150 a true BOV operation and sound, and this variant from our friends over at Turbosmart even fits onto aftermarket intercoolers and on 2015-2018 F150 2.7L EcoBoosts and 2017 Raptors. Just like its predecessor, the Turbosmart SP Supersonic BOV drops right into place of the factory eBOV and comes with everything you need to get it up and running on your truck, all without throwing a CEL. The Supersonic BOV is built out of high-quality materials and is less prone to leakage while handling much higher boost pressures than the stock eBOV, making it perfect for high-powered F150 builds.
Billet Aluminum Construction with Drop-in Design
Turbosmart carefully designed this version of the Supersonic BOV to fit on both 2.7L and 3.5L EcoBoost F150s, while also fitting with aftermarket intercoolers. The SP Supersonic Kit features a 90° mounting adapter for installing into your truck's intercooler, which allows the BOV to clear your truck's intercooler tubing, even when the BOV is installed on thicker aftermarket intercoolers. The new fitting also allows it proper clearance on 2015-2018 F150 2.7L EcoBoost models and 2017-2018 Raptors fitted with a 3.5L HO EcoBoost. Each BOV and fitting is made out of CNC machined billet aluminum, which gives it greater strength and durability over the factory plastic eBOV. Each kit comes with a drop-in boost reference adapter, resistor kit to prevent a CEL, installation hardware, and instructions.
Fitment:
2015-2018 F150 3.5L EcoBoost
2015-2018 F150 2.7L EcoBoost
2017-2018 Raptor 3.5L HO EcoBoost
ATP Intercooler Fitment: this BOV kit will not fit 2013-2014 F150 ATP Intercoolers.
This product can expose you to chemicals including Chromium, Nickel, Carbon Black & Cobalt, which are known to the State of California to cause cancer, and Antimony [Oxide], Arsenic, Beryllium. Chromium [hexavalent], Cobalt Cadmium, Lead, and Nickel which is known to the State of California to cause birth defects or other reproductive harm.
Details
TS-0215-1371

TS-0215-1371
Available
New
Categories
Shipping Information
Item Requires Shipping
Free Ground Shipping
Free shipping to the lower 48 contiguous United States. International shipping available upon request.
Customer Reviews
Total Reviews (0)
You must login to post a review.
---
---
The

Freedom Motorsports

Difference

Highest Quality

add-ons from top industry brands

Huge Selection

of accessories to fit any budget

Unmatched Customer Support

with knowledge & experience to back it up